Making the lives of our customers easier, more efficient and better informed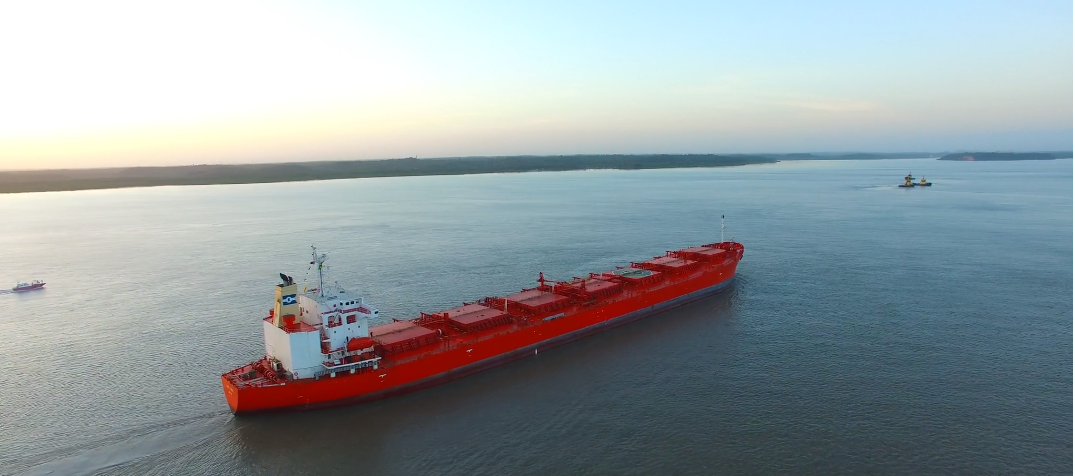 The ability to attract and retain customers and to engage them on a journey of joint development is key to success in all our businesses.
The most efficient and environmentally friendly shipping solution
Combination Carriers
Klaveness Combination Carriers ASA (KCC) was established in March 2018 through a consolidation of vessel ownership and operation of all Klaveness' existing combination carrier business.
Klaveness has been an owner and operator of combination carriers since the early 1950s. Over this period Klaveness has developed and refined vessel design and equipment, operational procedures and crew training, to provide our customers with the most efficient, reliable and high quality shipping services.
Klaveness Combination Carrier ASA has a fleet of 11 vessels in operation. The company is in the midst of a fleet expansion program with six vessels on order. In addition, the Company has a number of in-the-money fixed price options for further newbuildings, and is working on other attractive market opportunities.
Explore our environmentally friendly fleet that have up to 40 % lower CO2 emissions per ton mile transported cargo, and go a long way in meeting IMOs 2050 targets of a 50 % reduction in CO2 emissions from shipping.
A modern container fleet reducing fuel cost up to 40 %
Container
Klaveness provides container feeder vessels to global liner operators as well as regional feeder operators. Out of a fleet of eight container vessels, six are modern vessels delivered in 2013 and 2014, the "Eco-Flex 25" series.
The Eco-Flex 25 series represents the most economical and flexible technology currently available in the 2,500 TEU market, reducing fuel cost up to 40%:
Modern, electronically controlled engines with low-load tuning

Wide speed range with ability to super-slow steam

Trim assistant for fuel efficient cargo stowage

Continuous maintenance and performance monitoring
The outstanding trading flexibility reduces operational risks:
High reefer capacity with 536 plugs and a corresponding power output
Three 45t cranes

Powerful bow thruster

ITF and Australia fitted

Uni-fuel vessels

Ballast water treatment system
Ship management is performed by Klaveness Ship Management (KSM), certified to ISO 9000, ISO 14001 and OSHAS 18000.
Bringing shipping and logistics into the digital age
Klaveness Digital
Innovation is an integral part of our overall vision and values in Klaveness, and take place in all of our activities. In 2018 we therefore spun out our digital activity as a separate company, Klaveness Digital AS. The company builds intelligent shipping and logistics solutions using the latest advances in machine learning and artificial intelligence.
With a team of software engineers, data scientists, shipping, and logistics specialists in Oslo and Singapore, they help global companies take better informed decisions. The products and services are designed to give companies end to end visibility with real-time and predictive shipping and logistics.
They work closely with leading companies in the metal and mining, agriculture, energy, shipping and logistics industries. With valuable customer feedback, they are able to continuously improve their products to make sure they stay ahead in a constantly changing market.
CargoValue
The CargoValue platform allows teams to efficiently plan and manage their shipping schedule and inventory in one unified solution in real-time. The result is a single source of information from planning to production enabling companies to lower risk and reduce cost.

Leading digital operator and trader
Chartering
Klaveness Chartering is involved in all aspects of dry bulk shipping from spot chartering to long-term Contract of Affreightments, and period deals for vessel sizes ranging from 45,000 DWT to 98,000 DWT.
A solid equity base combined with more than 70 years of competence and governance are key determinants in securing market presence and position. With a modern fleet of more than 100 standard bulk vessels, and chartering offices in Oslo, Singapore and Dubai, customers get safe and competitive transportation, enabling them to maximize their value chain.
Innovation is the core of our development. The company has since 1946 adapted the business model to industry changes and customer needs. One of our main priorities going forward is to give customers direct access to vessel data and information that can improve their bottom line through data and analytics.
140
vessels under management
60
million tons of cargo carried
1 100
vessel fixtures a year
Profit Sharing Schemes
Klaveness has been running profit sharing schemes long before the term "sharing economy" was coined, and streamlined the operation since 1963 to meet the growing needs of shipowners in a global customer portfolio.
We serve ship owners with handymax, supramax and ultramax vessels through the Bulkhandling scheme, and Panamax, Kamsarmax and Post Panamax vessels through the Baumarine scheme. This gives members a global presence regardless of fleet size, and full flexibility by outsourcing the commercial management of their vessels. Both schemes operate under full transparency and distribution of earnings among the members. Fairness and equal treatment are cornerstones in our model.
By joining the profit sharing schemes, members get the services of chartering, operations, accounting, risk management, legal counseling and exclusive market insights from, and access to Klaveness Research.
Optimize your vessel and earnings through the profit sharing schemes
Global reach through chartering teams in Oslo, Singapore and Dubai.

Get the daily net hire according to your vessel's rating and performance with hire payment every 15 days.

Know that the vessels are operated from a ship owners perspective by senior staff with seagoing experience.

Get state-of-the-art hold cleaning equipment to ensure maintenance of the hold's condition.

Get access to the Klaveness customer portfolio and risk management team.

Do you want to know the earning potential of your vessel?
Our team will respond within 24 hours and give you a rating compared with the relevant Baltic indices
Operating a worldwide fleet
Klaveness Ship Management AS
Klaveness Ship Management AS offers ship management services to all Klaveness controlled vessels. The company have more than 70 years of experience in ship management, and deliver high quality services at competitive cost.
The company and head is in Norway with a highly qualified and stable staff conducting in-house technical -, purchasing -, crewing – and insurance services supported by own offices in Romania (crewing), the Philippines (crewing, purchasing, accounting) and South Africa (crewing).
We are a part of Purchasing Pools, ensuring competitive prices on a wide range of products including spare parts, lube oil, stores and more. The records and statistics on our operations secures very favorable insurance premiums, and our operated fleet has over the years had very little off-hire, and significantly lower than the industry average.
Our sailing staff come from The Philippines, Romania, and South Africa, and our retention in the years 2003 – 2018 has been between 95-98%, securing safe – stable – and reliable operations.
Annual fleet budgets over the years show that our customers get predictability and asset value maintained with an OPEX within +/-1% of agreed budget.
Klaveness Ship Management takes pride in early adaption of new requirements, whether it be new regulations, principal requirements or important trends in the industry, and are certified to the following standards:
ISO 9001: 2015

ISO 14001: 2015

OSHAS 18001: 2007

ISO 37001: 2016
19
Vessels under management
The crewing department is responsible for developing and maintaining the manning on board our vessels. We have unique know-how in recruitment, training and development of maritime personnel with multi-national backgrounds.
Our sea staff consists of cadets, apprentices, trainees, officers and ratings recruited from our manning offices in the Philippines, Romania and South Africa.
All cadets go through the same recruitment and selection process. This includes ability profiling and individual interviews with our staff. Cadets from the Philippines are recruited through the Norwegian Shipowners Association's programme, whilst our cadets from Romania and South Africa are recruited through our manning offices in Romania and South Africa.
Our Manpower Development Programme recruits and trains our future ratings. They undergo a training programme at school and in operational ports prior to embarking as deck and engine boys. The trainees are recruited through referrals, or from less fortunate areas in the Philippines and South Africa in order to contribute to enhancing social welfare in those areas.
Klaveness Maritime Agency Inc.,
Klaveness Maritime Agency, Inc. (KMA), was established in 1984 to support Torvald Klaveness crewing activities. The company is ISO 9001:2015 certified by DNV GL.
Barklav Manning Services
Barklav is a joint venture between Klaveness Ship Management AS and Wilhelmsen Ship Management. The company handles all functions related to crew operations and crew training, including the supervision of officer and ratings development through Cadet and Manpower Development Programs.

South African Maritime Training Academy (SAMTRA)
Klaveness Ship Management recruit, select and deploy South African seafarers in collaboration with SAMTRA.